Vehicle-to-Grid
More eco-friendly electric vehicle recharging.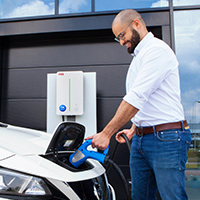 The Vehicle-to-Grid (V2G) technology from Dreev, with its ABB recharging station, allows companies to recharge their fleet of electric vehicles. At strategic times, they can also inject power back into the grid from the reserve created in their batteries while vehicles were not in use. In return, companies receive compensation for this service, and in this way, they are able to cover all or part of the cost of recharging their fleet. Right up to the end of the supply chain, this type of transaction contributes to network balancing at peak times.
Offering developed by Dreev, an EDF group subsidiary, in partnership with Nissan and ABB.
With V2G technology, it is now possible to transfer energy stored in vehicle batteries to the national grid. Thanks to V2G, companies can reap the benefits of their fleet even when vehicles are not in use. This emerging mechanism is made possible by new technologies in development, such as the ABB recharging station, or the Dreev algorithms. By choosing V2G-compatible vehicles, like the Nissan Leaf, for their fleet, companies are actively committing to making changes that will benefit the climate. Moreover, they receive compensation that can enable them to drive up to 10K miles per year in exchange for the energy recovery service. V2G is a type of smart charging solution, making it possible to recharge millions of electric vehicles. It also optimises use of renewable energies, since the electricity generated can be consumed at a later time, exactly when required.