The RE toolbox
For renewable energy and a secure power supply to go hand in hand.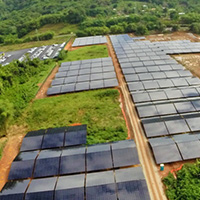 In terms of energy transition, island regions present a specific challenge insofar as they form small isolated systems, not connected to a mainland electricity grid. This feature can be an issue for the development of renewable energies, such as wind power or photovoltaics. To address it, EDF SEI has designed a "toolbox" offering tailor-made solutions adapted to the particular challenges of these regions.
Project developed by the EDF group.
The overseas French departments (Guadeloupe, French Guiana, Martinique, Réunion), Corsica and the Ponant Islands are notable for being non-interconnected zones (NIZ), not connected to a mainland electricity grid. These "insular" electrical systems are smaller and more fragile; consumption is strictly limited by the energy produced on site. These off-grid regions have set themselves very ambitious goals in terms of energy transition, since they aim to achieve 50% renewable energy in 2023 and 100% in 2030. Corsica, for its part, is aiming for 100% renewable energy by 2050. The massive influx of renewable energy from photovoltaic and wind sources into these electricity networks, which are not based on a traditional system of turbines and alternators, poses a number of new challenges to guarantee continuity of supply for our customers and, in particular, to maintain inertia and short-circuit current. EDF's Insular Power Systems Division is therefore developing various solutions and innovations to adapt the electrical systems of the NIZs: exploiting the system's flexibilities (fine voltage control, frequency-derived load shedding, etc.) controlling the system inertia (algorithms for forecasting and monitoring inertia in real time, synchronous compensators) and load transfer storage or reserve storage, all tools that can be used to break through the barriers to greater inclusion of renewable energies. Initially designed for isolated or weakly interconnected systems, these solutions could be rolled out in future over large electrical systems.