Smart charging
Make recharging easier with smart charging.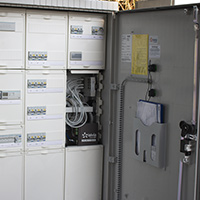 Smart charging is the intelligent charging of electric cars in companies and blocks of flats. In practical terms, it is a matter of initiating the charge at the right time or adapting the recharging speed to avoid costly work on the electrical installation. Izivia has therefore designed a simple, robust and scalable energy management solution that takes care of everything for you!
Solution developed by Izivia, an EDF group subsidiary.