DigHeat, the digital boiler
Using IT servers to heat buildings.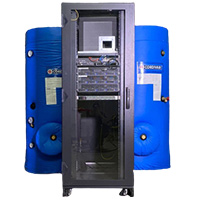 The IT servers that our computers rely on generate a lot of heat. Until now, that heat was lost. With DigHeat, it can now be recovered and put to good use to heat a building's domestic water supply. In this way, the same unit of energy serves a dual purpose, data processing and heating. This kind of recycling and circular economy system reduces a building's energy consumption and improves their carbon footprint.
Solution developed by Dalkia, an EDF group subsidiary, in partnership with start-up Tresorio.
Dalkia and environmentally responsible start-up Tresorio have co-developed and patented a unique device for recovering the heat produced by IT servers. Tresorio offers its customers a supercomputing PAAS service, and Dalkia installs their servers on its customer's premises, and then re-uses the heat produced by the machines to provide domestic hot water. The "deadly" heat reserve is gigantic and increasing every year, as digital technology continues to progress. This new concept of a distributed server is one answer to the question of data centre energy efficiency. A digital boiler produces domestic hot water at the right temperature, on demand. The concept was proven at the Metz-Thionville hospital and the Continental factory in Sarreguemines, both in north-eastern France. A fully-developed version is to be commissioned for a long-term care facility in Montluçon, in central France.