COMETE
How to use less scaffolding to check anchorage.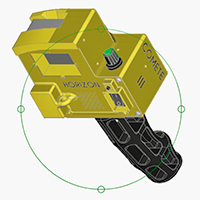 The COMETE (Optical sensor for calibrated measurements), project was initiated by the EDF Chinon power plant. Designed by Horizon Date Service, specialised in remote video-assisted controls, this innovation addresses the need to monitor the bearing points on civil engineering structures. COMETE consists of equipment for measuring anchorage that uses video footage taken either directly by an operator, or with a boom or drone. It aims to reduce the need for work at height and scaffolding.
Project developed by the EDF group, in partnership with Horizon Data Service.