CGI Model
A virtual stroll around a power plant.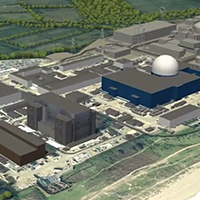 This interactive 3D model allows you to take a stroll around EDF's Sizewell C EPR power plant in the United Kingdom in augmented reality. From a computer, users can move about on a virtual version of the completed site. This powerful tool offers stakeholders the chance to see what the Sizewell C plant will look like before construction is finished, and to gain a better understanding of its impact on the landscape.
Solution developed by EDF Energy, an EDF group subsidiary, in partnership with 3D Web Technologies Ltd.